A extra page of links for Christina....
Just click on the photos to visit the sites
Cadolle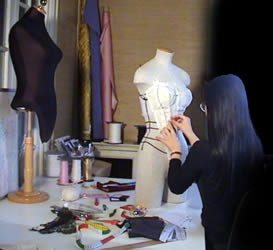 ---
Rigby and Peller

Ok, now it gets complicated. There is both Rigby and Peller the brand and Rigby and Peller the stores, and the two are not quite the same. The Rigby and Peller brand is made under license by Eveden, the same people who make Freya and Fantasie. R&P is manufactured in England, using very high-quality materials, and has been quite successful in high-end stores (i.e. Bergdorf Goodman) in the US.

Rigby and Peller itself has three stores in London, all of which sell a variety of top lingerie brands, besides R&P.

The R&P website is more or less oriented towards the stores, but with one glaring omission, namely their made-to-measure custom bra service, which is not mentioned anywhere on the site. Although it is not stated explicitly, R&P's royal warrant (that lets them supply bras to the Queen and other royals) is for their made to measure bras, not for their standard line.

As of 2006, the made-to-measure service is only available at R&P's Knightsbridge store. They employ four seamtresses, three making bras, and one making the more complicated garments, such as basques and corsets. A made-to-measure bra costs 210 pounds, which does not include a one time 40 pound charge for creating a customer's pattern. The fitting must be in person, and should be scheduled in advance. There is generally a second fitting, to check the garment before it is finished.

The Knightsbridge store has a national 0845 number, which is 0845 076 5545. The regular number is 0 207 589 9293. The woman who books the fittings is named Paola.


R&P
---
Prima Donna

Prima Donna is a very beautiful large-cup brand made in Belgium. There are two things to remember about them, however: They do not make a size 30 back, and their cup sizes are very deceptive. Because European firms grade cup sizes by steps of 2cm instead of one inch, they get proportionally smaller, the larger the cup. A Prima Donna "H" (the largest they make) is between an English "E" and "F".


Prima Donna
---

   <send us email>

      Ruf Peska                         <next page>
      241 16th Street, Suite 908
      Toledo, OH 43604
      419-243-3589